Regular price
Sale price
$39.99 USD
Unit price
per
Sale
Sold out
📦 Pocket-Sized Energy
😋 Unleash the Fun

💡

Jitter-Free Focus Formula
🍋 Refreshing Lemonade Flavor
Looking for a convenient and delicious way to power up your energy levels? Look no further than MAW Energy Gummies, the ultimate solution for on-the-go gamers and energy enthusiasts. Our caffeine gummies are here to revolutionize your energy-boosting routine with their potent formula and delightful taste.
Each MAW Energy Gummy has 50mg of natural caffeine, providing the perfect pick-me-up for those moments when you need an instant burst of energy. Whether you're in the middle of an intense gaming session, tackling a challenging work project, or simply needing an extra boost to get through the day, our caffeine gummies have got you covered.
Crafted with a unique focus formula, our gummies go beyond caffeine alone. We've added essential B vitamins, known for their ability to enhance mental clarity and support cognitive function. The result? A jitter-free, sustained energy boost that helps you stay focused and in the zone without the crash.
Indulge in the delectable taste of our caffeine gummies, making every energy-boosting moment a pure delight. With MAW Energy Gummies, you can fuel your victories, tackle new challenges, and seize the day with unmatched energy and enthusiasm.
Share
View full details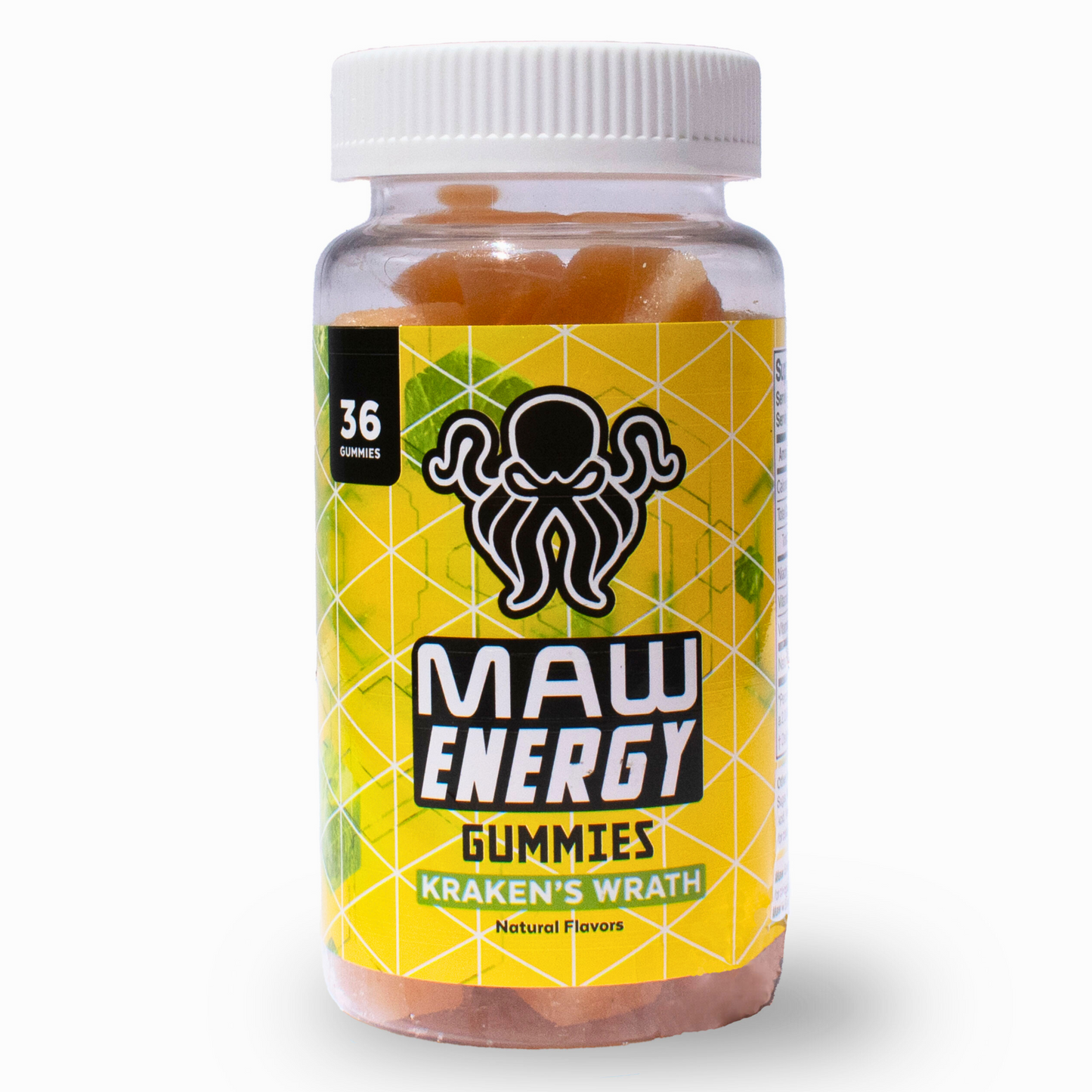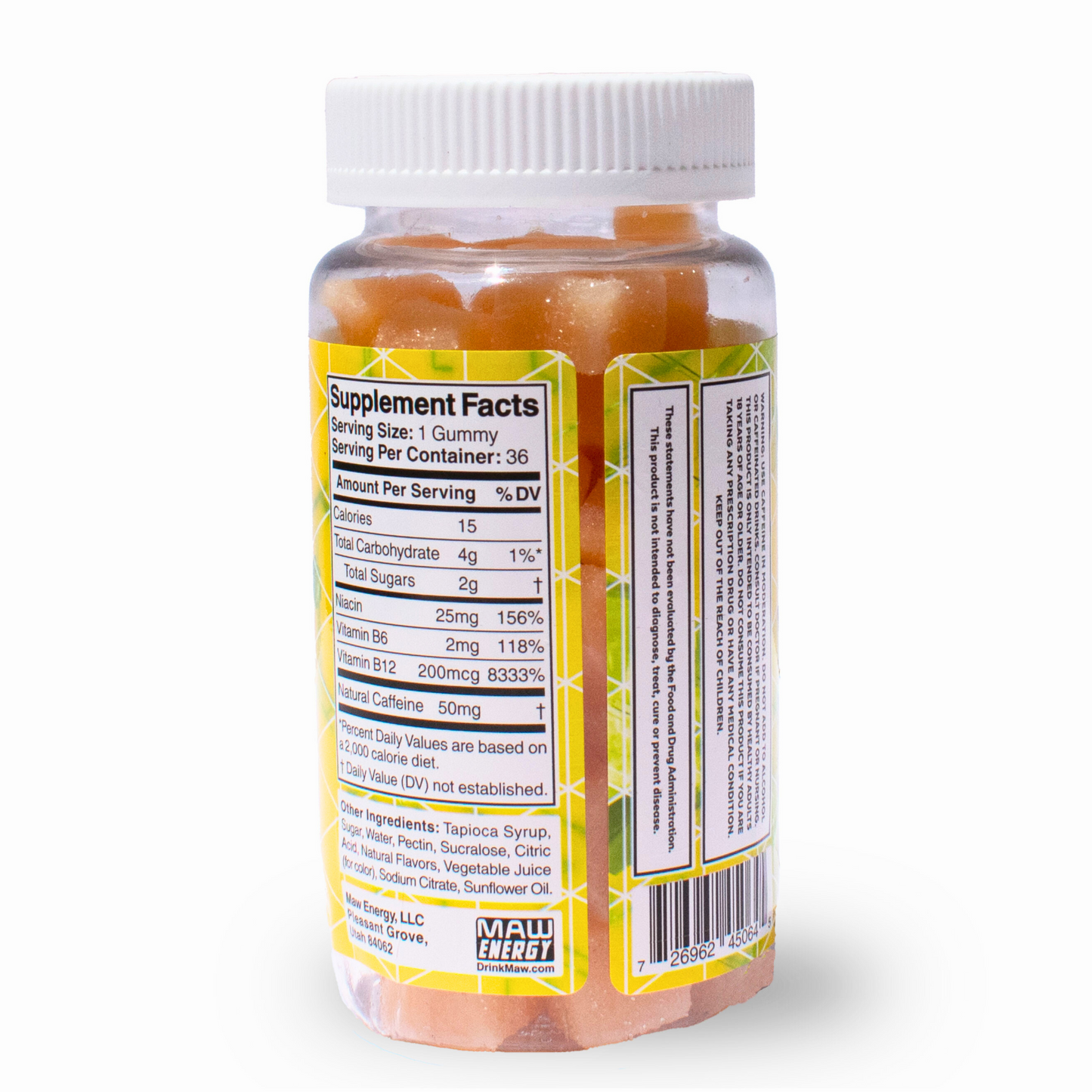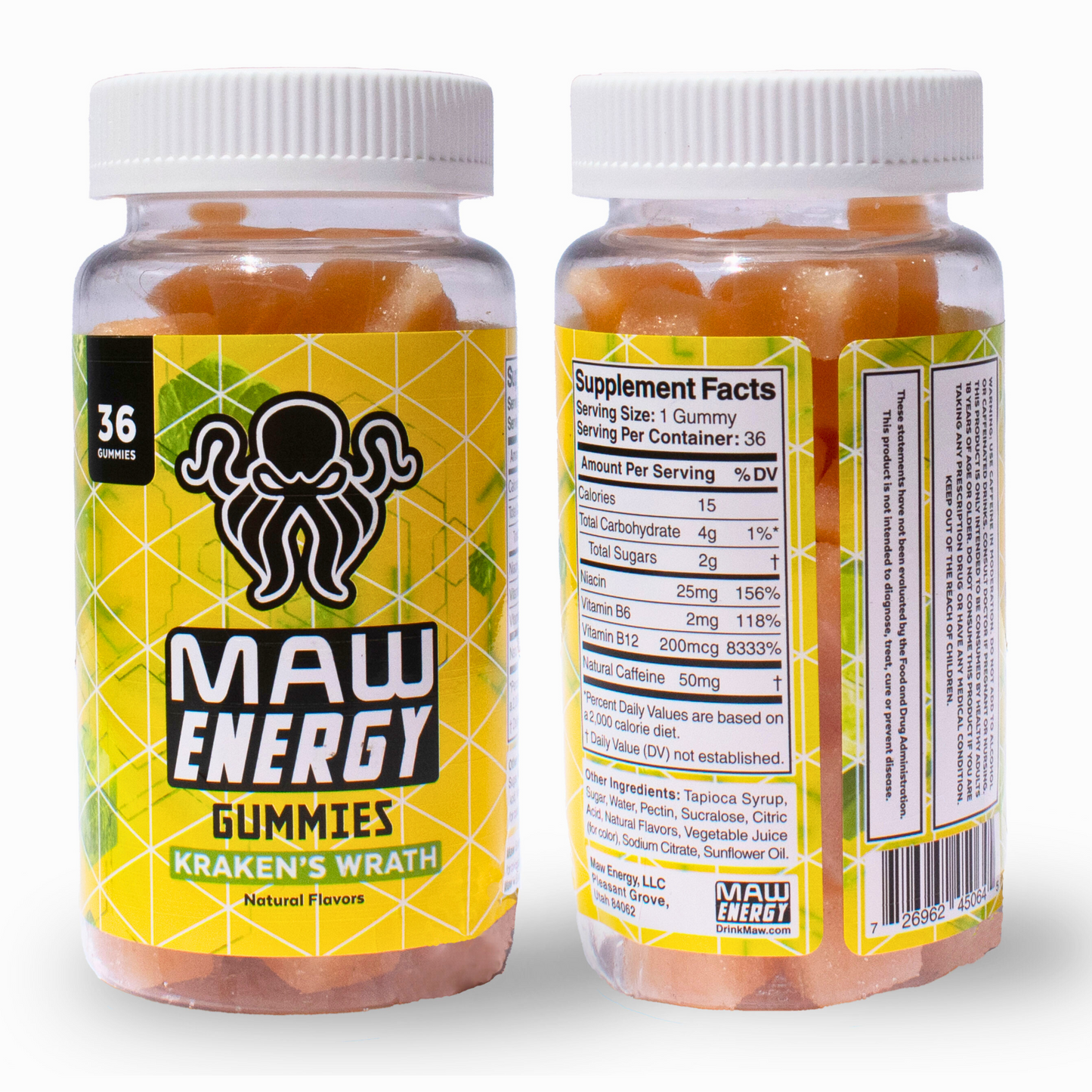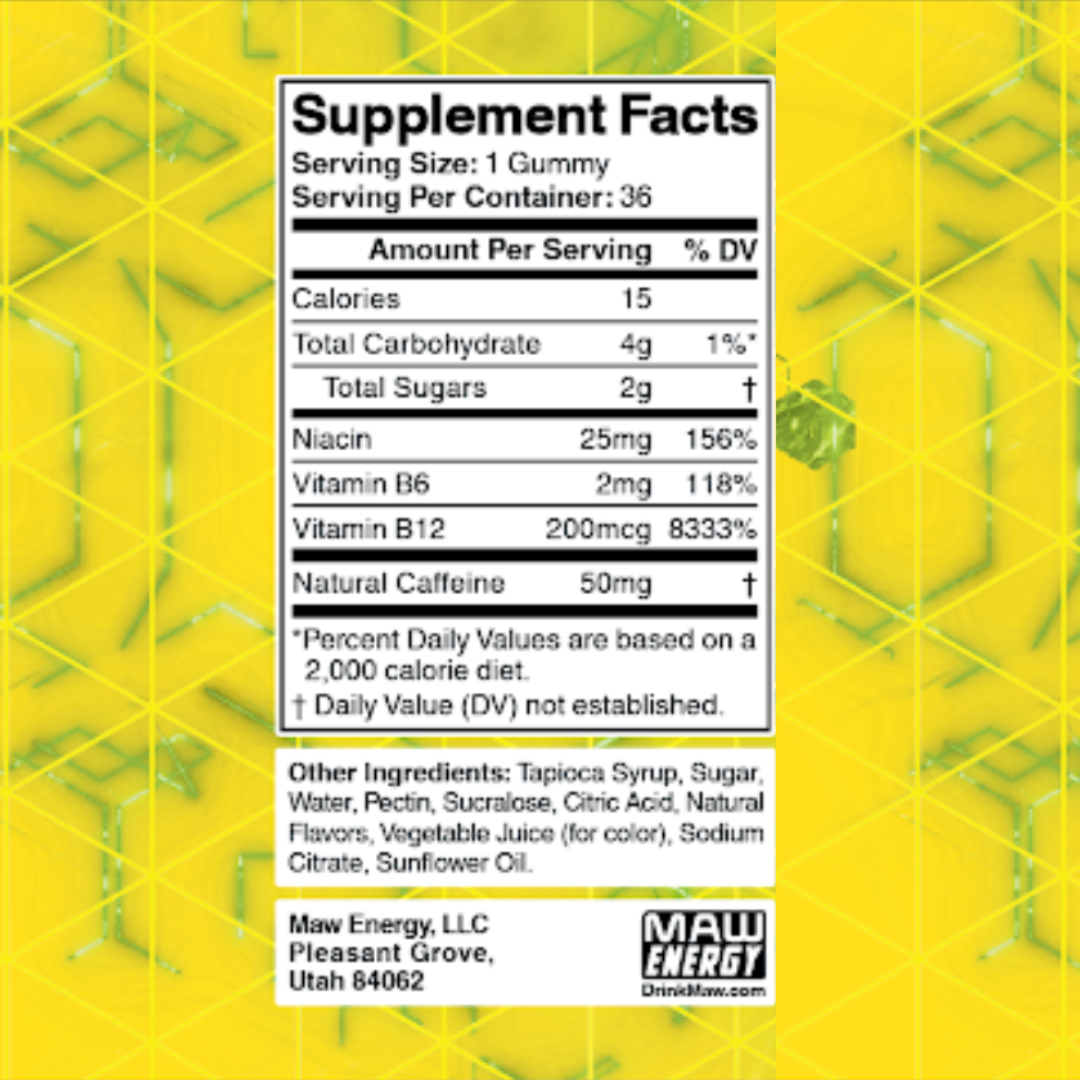 You're gonna love gummies
Power-Packed Performance

Each MAW Energy Gummy is infused with 50mg of caffeine, delivering an explosive burst of energy that keeps you at the top of your game. Prepare to conquer your to-do list and achieve greatness like never before!
Jitter-Free Focus

We've cracked the code to effortless concentration. MAW Energy Gummies are specially formulated with a precise blend of B vitamins, ensuring you stay mentally sharp and focused without any jitters or crashes. Stay in the zone and own every task that comes your way!
On-the-Go Awesomeness

Convenience has never tasted this good! With MAW Energy Gummies, you can energize yourself wherever, whenever. Just grab a pack, toss it in your bag, and enjoy a quick and delicious energy boost whenever you need it most. No more caffeine hassles or liquid spills!
Unmatched Taste Adventure

Energy should be an experience, not a chore. Our gummies are a tantalizing lemonade flavor that will make your taste buds dance with joy. Every bite is a refreshing treat.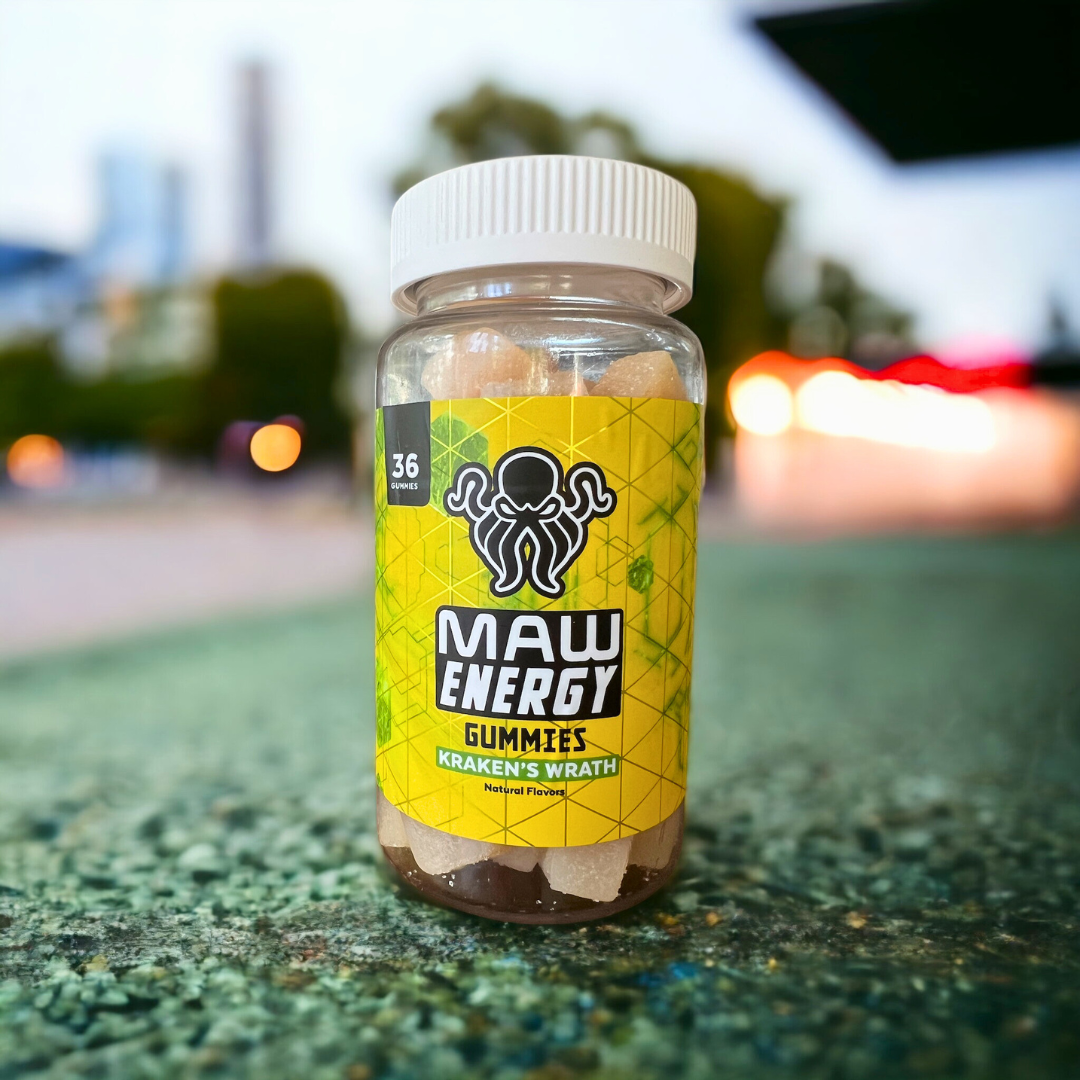 Experience a New Level of Unstoppable Energy!
Convenience has never tasted this good! Energize yourself wherever, whenever. Toss it in your bag or keep it on your desk, and enjoy a quick and delicious energy boost whenever you need it most.  
Great Gummies!
Compared to other energy gummies that I've tried, Maw's offering is much better. They taste great and the consistency of the gummy is much better than others. Not too tough and not too chewy. Just right.
The only negative I'll say is the gummies tend to stick together in the bottle but that's nitpicking and completely understandable. Definitely recommend picking up a bottle. (Or 2!)
I would definitely recommend
Great gummies that I would definitely recommend to anyone looking for a quick and easy way to boost your energy without feeling full or jittery — love the flavor and so convenient! Shipping was fast, will be telling my friends and family to try MAW!
Great powder alternative
I really love the MAW Energy Powder, but the gummies are an even more convenient way of getting that boost. I keep the jar on my desk and look forward to enjoying a couple throughout the day. The only con is I have to hold myself back from eating the entire jar at once, they taste great.
I love them!
Excellent taste and texture, citrusy with a hint of sweetness. I like taking two for alertness, and three if I really want to focus. 10/10 will purchase again.
Energized and Thrilled Customer
I'm hooked on these gummies! The instant and long-lasting energy keeps me focused and motivated without any jitters or crashes. These convenient (and tasty) gummies have become my go to solution for that mid-day energy boost. Highly recommended!
Safety information: Do not take on an empty stomach. Do not take more than the recommended dosage. Niacin may cause a temporary flush, itching, or tingling red rash on the skin, particularly on an empty stomach. Discontinue use and consult your healthcare professional if you experience unwanted side effects or prolonged discomfort. For healthy individuals 18 years and older. Consult a healthcare professional prior to use if you are pregnant or nursing, taking medication, or have a medical condition. Do not exceed recommended use. Improper use will not improve results and is not advised. Keep out of reach of children. Do not use if safety seal is broken or missing. Notice: Store in a cool, dry place.